Products | IP Telephony
How does it Work??
Business phone system with advanced virtual PBX capabilities provide seamless connectivity.

What is hosted (IP Telephony) PBX ?
Hosted PBX, also known as "cloud PBX" or "virtual PBX," moves the functions of onsite PBX hardware to the cloud. Instead of connecting telephones to an on-premise PBX,Talksolution phones plug into your router and connect to secure data centers-so you can call and receive calls via VoIP. You get all the features of an on-premise PBX and more delivered seamlessly to desk phones, computers, and even mobile devices.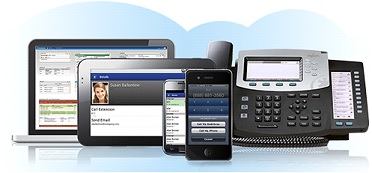 Why cloud-based PBX is best
It's flexible. It makes it easy to scale up and down, easy to add multiple locations, and easy to add and manage remote, mobile, and contract workers.
It eliminates expensive, onsite equipment and the headaches and maintenance that go along with it.
It removes the single point of failure from your office telephone system, since each device connects separately to our servers. Should a power outage, inclement weather, or a major disaster make it impossible to get to the office, your staff can still carry on using their PCs and smartphones—no matter where they are.
The service is simple
There's no need for expensive training or certifications for your IT staff. The system can even be managed by an office manager or facilities coordinator without IT experience.
Your phone system can be managed from any device with internet access.
It does not require expensive consultants or contractors to maintain or expand.
It eliminates major capital equipment costs.
On-boarding and setup are easy, and system management is greatly simplified.
User and calling configurations can be changed with a few clicks, and users can manage their own settings, so there's no additional burden on your IT team.
You have one provider and receive one fixed, monthly bill for all users, features, and locations—including landline and mobile minutes, fax, conferencing, online meetings, virtual receptionist, mobile apps, and voicemail.
The need for expensive hardware upgrades is eliminated—the software is continually and automatically upgraded.
Project a Professional Business Image
Employees can make and receive calls with their business number and business identity, no matter where they are or what device they are using—personal mobile phones, home phones, even hotel phones.
How hosted PBX helps enterprises
Getting rid of PBX hardware reduces capital expenses.
Our enterprise-level virtual PBX system with all the features you expect and more.
Get new offices, new locations, and new employees up and running in a day, using the web portal-no hardware changes required.
Get in Touch
0208 9355 512