Products | Cloud PBX | Call Forwarding
Call Forwarding
Forward calls with ease and flexibility. Call divert capabilities ensure you never miss a call, whether you're in office or on the go.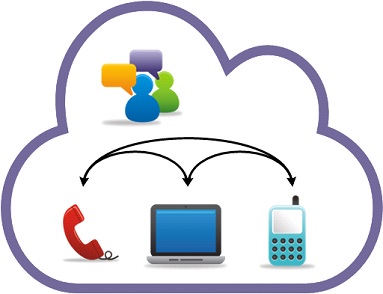 With call forwarding, you can receive calls on any device, wherever you are. It's easy to set up and manage your call diversion settings whenever your schedule requires it-for example, if you take leave or work from home for any given period of time. Minimise unwanted calls from cold callers by establishing barring rules, or choose to block all calls without an associated caller ID.
Benefits of call forwarding
Use call forwarding to receive your business calls on any device, at any location
Conveniently divert calls to a particular destination on any landline or mobile number.
Forward calls automatically to multiple phone numbers-such as your office, home or mobile phone.
Ring to selected numbers simultaneously, or in a specified order.
Change the forwarding numbers and forwarding order at any time, through your online account.
Define the number of times a phone rings before calls divert to another device.
Set separate rules for after-hours calls, or advanced calling conditions such as date range, caller ID, or called number.
Create and select among Ring Groups as forwarding destinations.
Maximise business efficiency with call divert
Callers can reach you wherever you are and wherever you go.
You can change Call Forwarding settings on the fly-even while travelling.
With call barring, you can screen telemarketers and cold calls by having callers announce themselves first. You can then choose to reject calls of unrecognised callers.
You can also block all callers that don't have caller ID information. You can select to play a message of your choosing, such as, "Calls with no caller ID are not allowed," or "Mailbox is currently full." If you choose to turn on this functionality, incoming calls without a caller ID will not be stored in your Call Log.
Users can manage their own call forwarding settings-without an administrator.
Ring multiple phones at once-convenient for users who move around the office throughout the day.
Call forwarding FAQs
How many numbers can I forward calls to?
You can forward calls to as many as 10 phone numbers.
You can have all phones ring at once or in a fixed order. For example, if you forward phone calls to a sales team and one person doesn't pick up, the call is automatically forwarded to the next person or department. Or have all phones ring at once, and the first available person can answer.
How easy is it to change call forwarding?
It does not require expensive consultants or contractors to maintain or expand.
It's easy to figure out how to divert calls with Talksolution. Change the numbers and the order of forwarding at any time through your online account or with Talksolution for iPhone/iPad or Android on your mobile device.
Add contact numbers to groups with conditional call forwarding settings, and then turn them on or off easily.
What will callers experience?
Callers to your main number (and extension) will hear your professional business greeting, and then the Auto-Receptionist will ask them to hold while locating you.
If enabled, the Auto-Receptionist will ask the caller to state their name.
You'll hear the caller's name through your phone or, if you're online, through your computer speakers.
Can I forward calls to international numbers?
Yes. You may forward calls to any international number using our low international rates.
Get in Touch
0208 9355 512